A Fresh Direction in Home Furnishings
Caracole creates gorgeous silhouettes that span the style chart. Refined color palettes and simple sophistication allow for an eclectic yet harmonious collection of exclusive pieces. Artfully-designed furniture is their calling card, yet the designers at Caracole also keep function and practicality top-of-mind. They combine the everyday with the whimsical, seamlessly blending classic style, personality, and luxury to adorn every living space in your home.
In addition to Caracole's stylish selections, you might also consider their Compositions collection with elegant options for everyday living. Both suites of fine furnishings are part of the Schnadig family of companies.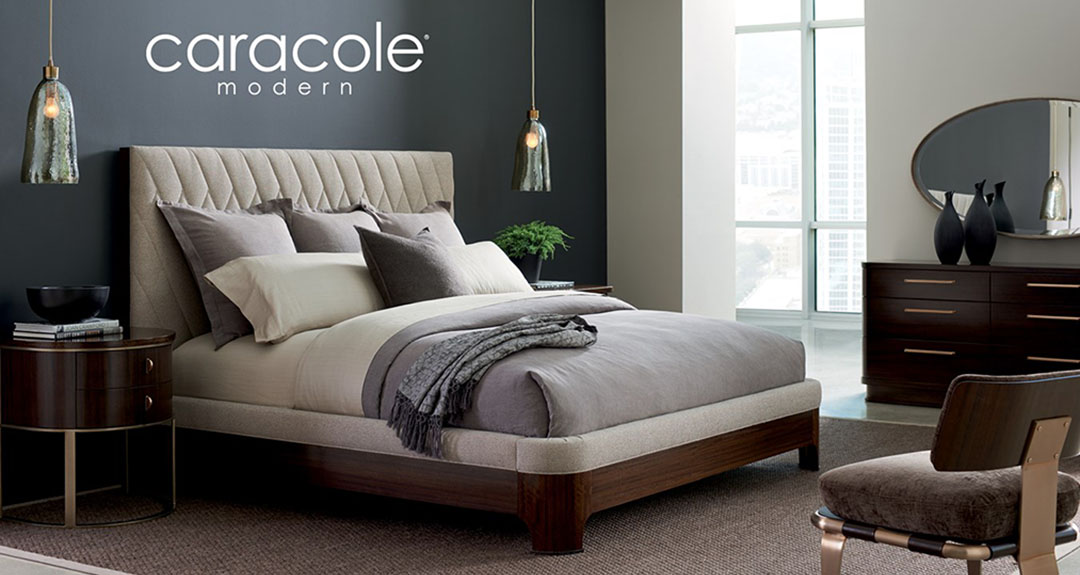 Luxury Furniture with Style & Glamour
At Caracole, every piece is exceptional. From sumptuous fabrics to rich wood finishes, their dining room, living room, and bedroom furniture is masterfully designed to appeal to a diverse array of individual styles. Caracole sees interior design as a reflection of their client's personality, and they give you the ultimate tools to develop your own creative expression. From a statement piece with modern lines or retro flair, to an understated, classic model – everything is within reach. Caracole breaks free from outdated notions of interior design and encourages clients' individuality. Let their extensive collection of on-trend fabrics, leathers, and finishes speak to you.
The Caracole Classic line offers a new take on traditional furnishings. By applying unique materials, finishes, and fabrics to their high-style furniture they create pieces that emanate a refined sense of personality.
Caracole Modern selections reflect the height of fashion, expressed in simple, fluid detailing. Sophisticated design and exceptional craftsmanship ensure that the materials' natural beauty will endure.
Caracole Signature is the ultimate statement of luxury. Dramatic, regal, and elegant well describe the effect of polished and metallic finishes, rich woods, sumptuous leathers, and luxe fabrics.
The Compositions portfolio unites opulence with the eclectic, and playful, curving forms with a strict attention to subtle design details. Warm wood tones and rich fabrics are woven with complementary accents, creating the essence of elegance.
Caracole Couture is the epitome of personalized home fashion. Peruse their design portfolios and find inspiration in luxurious fabrics, lustrous finishes, and extensive detailing. The Couture line celebrates clients' creative style and results in truly one-of-a-kind, bespoke home furnishings.
Yours Truly by Caracole rests all designing power with you, drawing influence from your personality and lifestyle. Distinctive styles emerge as you dress Caracole's striking silhouettes with their cultivated selections of on-trend fabrics and quality finishes.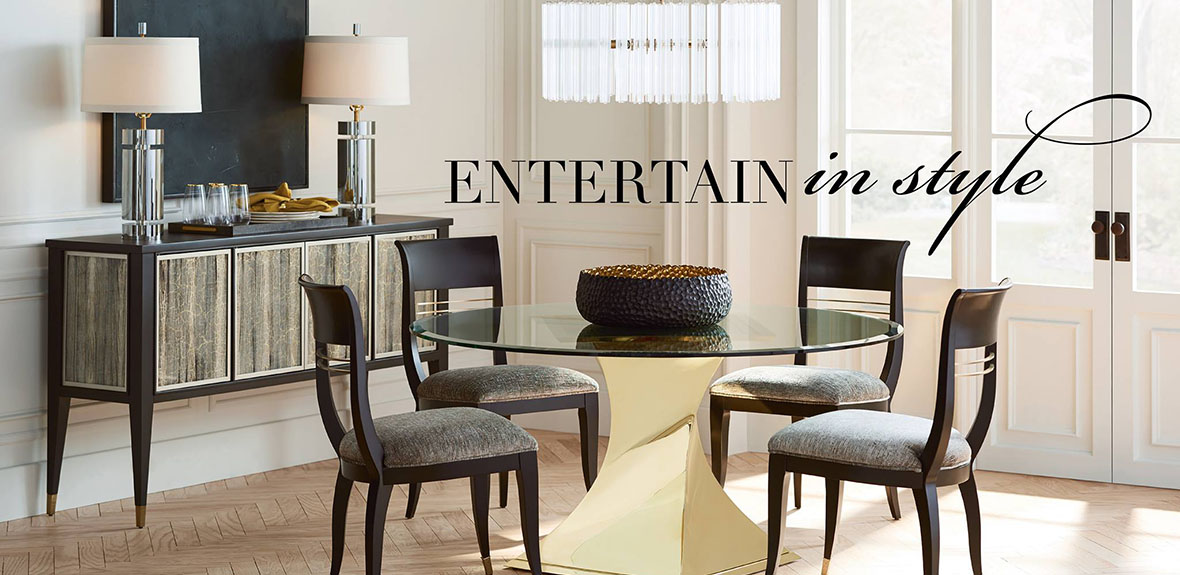 Curated Furnishings for Every Room
Caracole offers singular pieces for your bedroom, living room, and dining area. Exclusive product lines feature refined furnishings that pair perfectly with their collection of ornate, classic, and whimsical mirrors. And an extensive portfolio breathes new life into classic, modern, and signature designs. Caracole's high-style schemes lend a luxurious atmosphere to every room in your home.
Bedroom Furniture
Caracole's bedroom furniture includes elegant armoires, sumptuous beds, stately chests, tasteful dressers, and exquisite nightstands in a full array of fabrics and finishes. Choose from suggested pairings or design a custom grouping of pieces that express your personal style.
Living Room Furniture
Caracole's plush ottomans, chairs, sectionals, settees, chaises, sofas, and loveseats bring luxurious comfort to family spaces. Sleek entertainment consoles offer discreet storage solutions. Stylish bars, display cabinets, and cocktail tables bring a touch of opulence to the everyday. Chests, consoles, and desks serve unique needs, and their refined selection of side and end tables is practical, yet elegant. Combine select items or build an ensemble all your own.
Dining Room Furniture
Whether formal or relaxed, grand or intimate, your dining room is elevated when dressed with Caracole's tailored selections. Smart bar and counter stools, impressive dining tables and chairs, and chic buffets and sideboards reflect practicality while beautifying the heart of your home.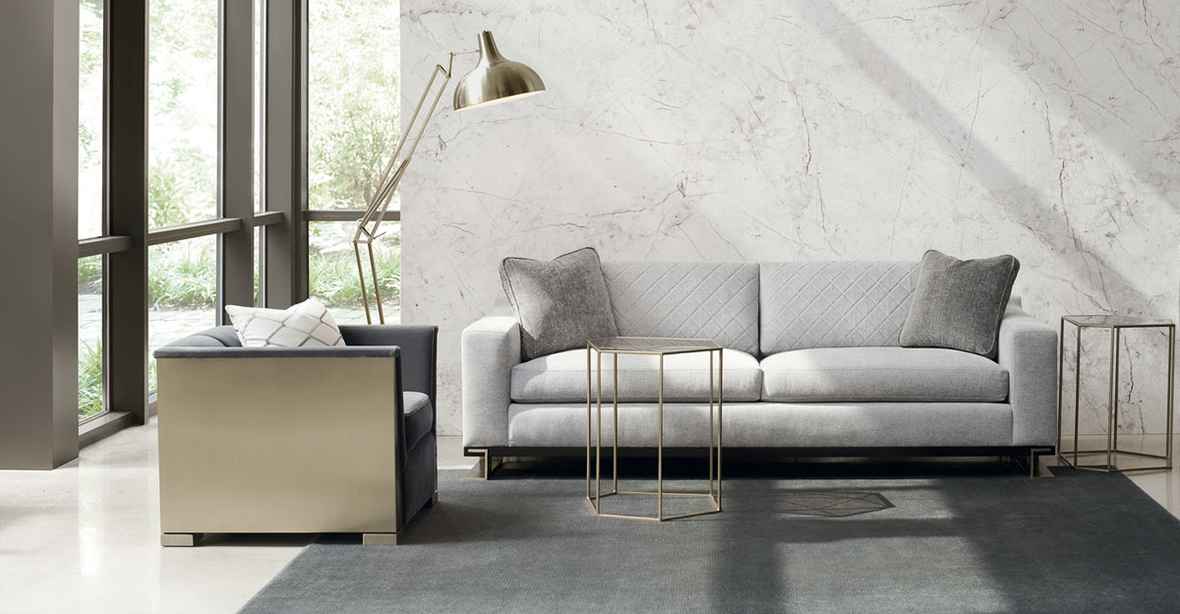 Quality Craftsmanship, Undeniable Value
Caracole believes that every client deserves exceptional furniture at an attainable price. They imbue each piece with personality and refined detailing that speak to your unique taste, bringing sophisticated fun to your living spaces. But Caracole furnishings are more than ornament – they are designed to endure. Crafted from the finest materials, Caracole's tables, chairs, beds, sofas, and dressers are durable, top-quality works of art.
Caracole Hospitality - Designed for Luxury & Comfort
Caracole furnishings are found across the globe in an array of first-class hotels and resorts. In a setting where high style, luxurious design, and exceptional comfort converge, Caracole's refined selections stand out. Hospitality clients are able to customize Caracole's stunning silhouettes with fabric that both captures the essence of their style and the imagination of their guests. For distinctive décor that is timeless yet always on-trend, Caracole is the natural choice.