Luxurious Outdoor Casual Furniture & Fire Pits
For over 60 years, O.W. Lee artisans have combined Old World craftsmanship with state-of-the-art equipment to design and produce fine outdoor casual furniture. Transform your balcony or patio into a relaxing private getaway with O.W. Lee's bistro chairs, adjustable chaises, outdoor dining sets, customizable sectionals, fire pits, umbrellas, and more. With hundreds of fabric options and over a dozen metal finishes available, the creative possibilities are endless!
CONNECT WITH AN INTERIOR DESIGNER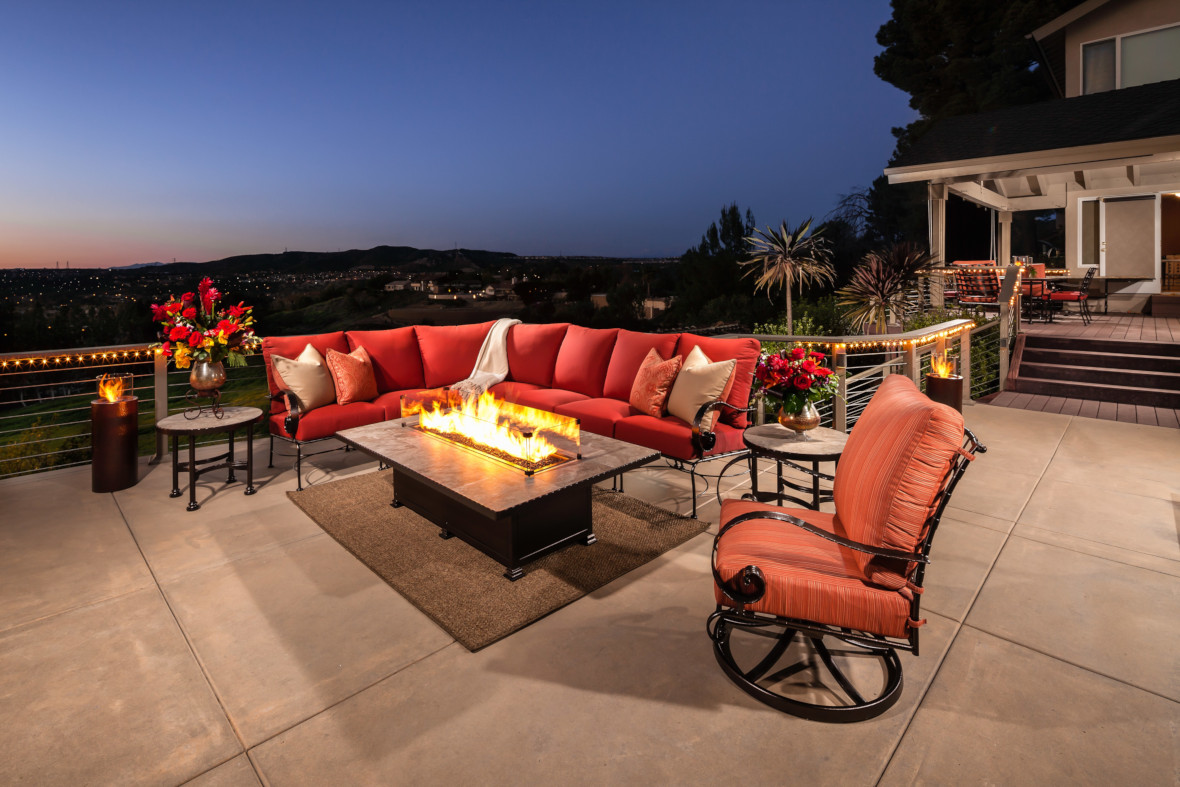 Innovative Comfort
O.W. Lee's patent pending Flex Comfort™ micro mesh parabolic fabric combined with their Plush Comfort™ cushioning system invites you to sit back and relax. For additional comfort and ease of maintenance, O.W. Lee seating also features SYTEX™ seat support manufactured in the USA by Matrex. SYTEX™ consists of 100% synthetic fibers that are both elastic and durable, producing an outstanding resistance to fatigue, heat and sunlight, fungus, and mildew.
Wrought Iron, Steel, & Aluminum Designs
Wrought iron and steel are classic patio furniture materials due to their durability, wind resistance, and construction that lends itself to intricate designs. Wrought aluminum, on the other hand, is very lightweight and portable. O.W. Lee uses high-grade alloy aluminum to guarantee structural strength and a low-maintenance design.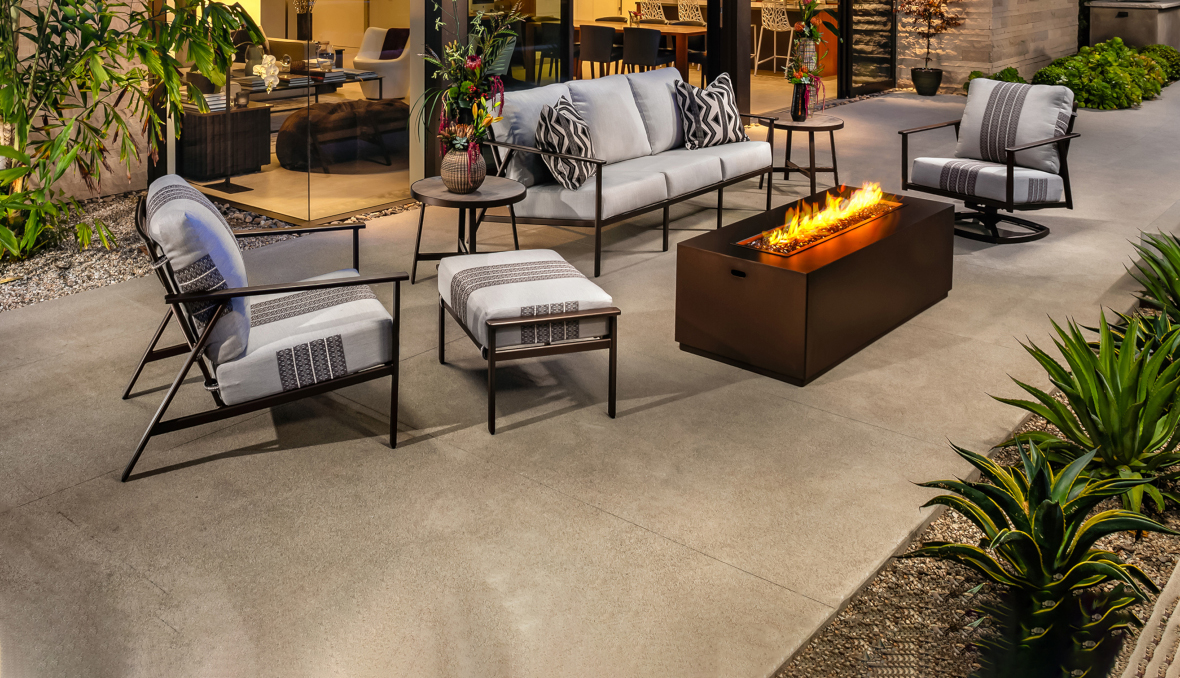 Diverse Styles
O.W. Lee's outdoor furniture collections cater to a variety of décor styles. The Creighton collection of customizable, deep-seated sectional sets display an industrial flair with trestle ironwork. Function meets form with the mid-century designs of the Lennox collection, featuring easy-to-stack pieces made of galvanized steel and metal mesh. The elegant lines of the Marquette collection combine French and English styling with the comfort of wide arms, deep pillow cushioning, and spring steel seat straps. In a similar vein, the Belle Vie collection—which means "beautiful view" in French—mimics the sophistication of 19th century Art Nouveau styling that was popular among the French aristocracy. For beach bungalow décor, choose pieces from the Grand Cay collection, inspired by South Florida and Caribbean architecture. The Marin collection is reminiscent of both the natural and modern elements of Marin County, a coastal community in Northern California just north of the Golden Gate Bridge.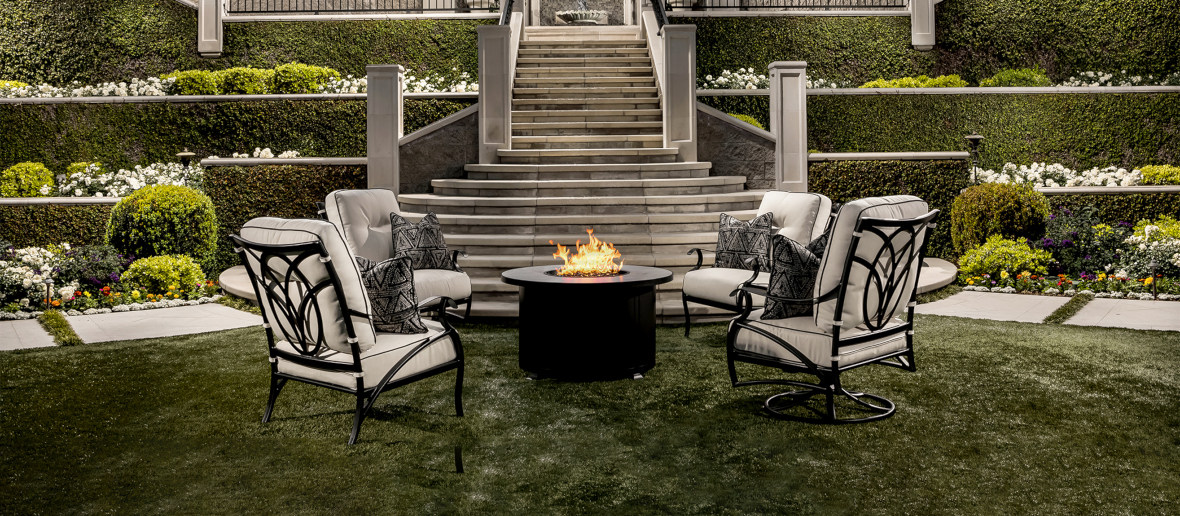 Casual Fireside®
O.W. Lee offers the most sophisticated collection of outdoor fire pits and accessories on the market. Their durable construction and reliable ignition systems set them apart from competing brands. You can customize the height, hearth top material, and media options of your fire pit to best suit the décor and layout of your outdoor living space. Table heights include occasional, coffee, dining, and counter with metal bases available in 13 super polyester finishes. Choose between 15 porcelain tile designs or aluminum and copper hearth tops. Beautify your fire pit with decorative media such as glass gems, lava granules, and ceramic logs.