Hand-Crafted Custom Fine Furniture from Old Biscayne Designs
What began as husband-and-wife team Ignacio (Nick) and Gretchen Gabrielli's original retail antique enterprise became the multi-factory manufacturing endeavor known today as Old Biscayne Designs (OBD). The couple formed OBD in 1990, combining their divergent backgrounds–Argentine aristocratic elegance and simple Southern charm–to create a diverse collection of furnishings that appeal to every interior design approach. From fine iron beds and wooden designs derived from European antiques, to modern, on-trend pieces, Old Biscayne Designs offers high-quality, heirloom furnishings with an aesthetic variety that astounds. The Gabriellis are dedicated to excellence and every masterpiece of design holds their signature and year of creation.
CONNECT WITH AN INTERIOR DESIGNER
Custom upholstery and Hand-Made Furnishings
Old Biscayne Designs works to procure U.S. hardwoods and steel for their manufacturing operations and employs an array of traditional processes–iron work, foundry work, hand-carving, and hand-crafting–to create their one-of-a-kind furniture designs. Customers can choose from dozens of hardware styles, fabric patterns, textures, and colors, and finish hues to ensure that their finished piece looks right at home in their space.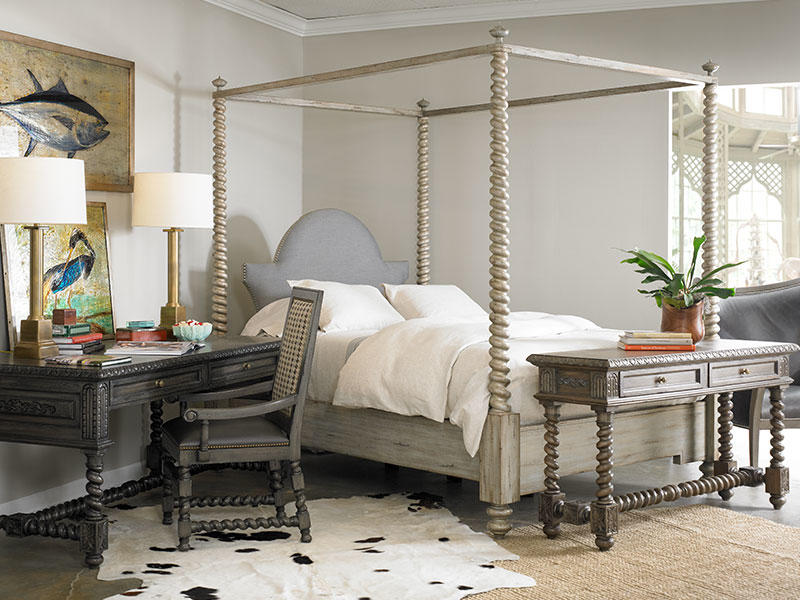 Bedroom Furniture
Old Biscayne Designs beds come in a full range of sizes, from twin to California King. You can find bunk beds of every configuration, day beds with or without trundles, and any kind of bed frame you so desire. Old Biscayne Design iron bed frames are famous for their authentic feel, and their upholstered headboards and footboards, platform beds, poster beds, and skirted bed frames all lend their own sense of style to your resting space. Whether you opt for a clean silhouette, or prefer opulence and ornate detailing, there is a bed frame to fit your room's aesthetic. Add in a coordinating dresser, nightstand, or armoire to complete the ensemble. A bench or armchair offers a casual seating option, reinforcing your bedroom's sense of calm and rest.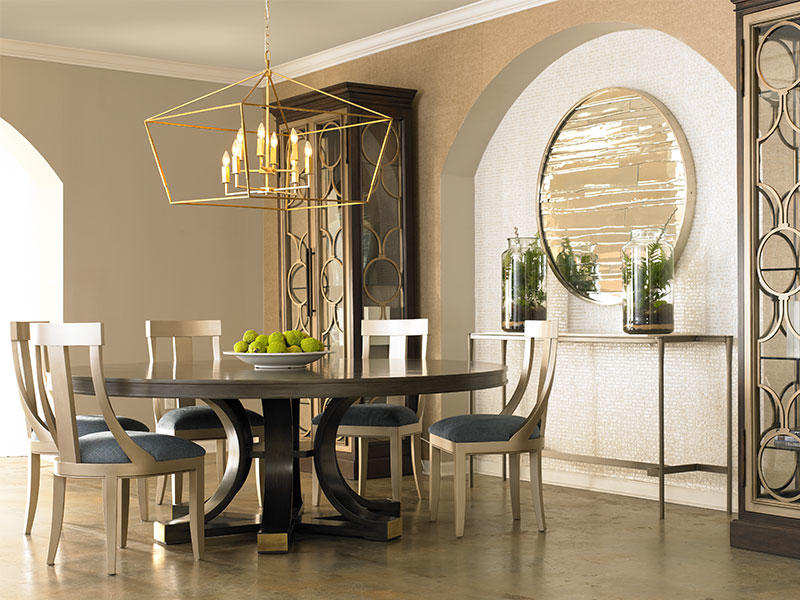 Dining Room Furniture
Every dining space deserves to be elevated from the everyday, and Old Biscayne Designs delivers, with high-quality dining tables, dining chairs, and storage cabinets that add undeniable convenience and style to your home. Bar tables, leaved dining tables, bistro tables, and game tables are available in every style, size, and shape you might need to complete your look. Choose from wood and glass tops and lovely detailing, like oak burl veneer insets and metallic finishing. Dining tables take many forms, from pedestal to trestle or the traditional legged profile. The wide range of styles range from Old World and Asian motifs to clean, modern lines, and a pared-down, relaxed approach.
Mirrored, paneled, shelved, and lighted wall units can house precious heirlooms, collectors' items, or your finest china. Bar cabinets keep entertainment easy, with everything you need nearby. Buffets and credenzas enhance your space with added areas that make entertaining for a crowd just a bit more streamlined.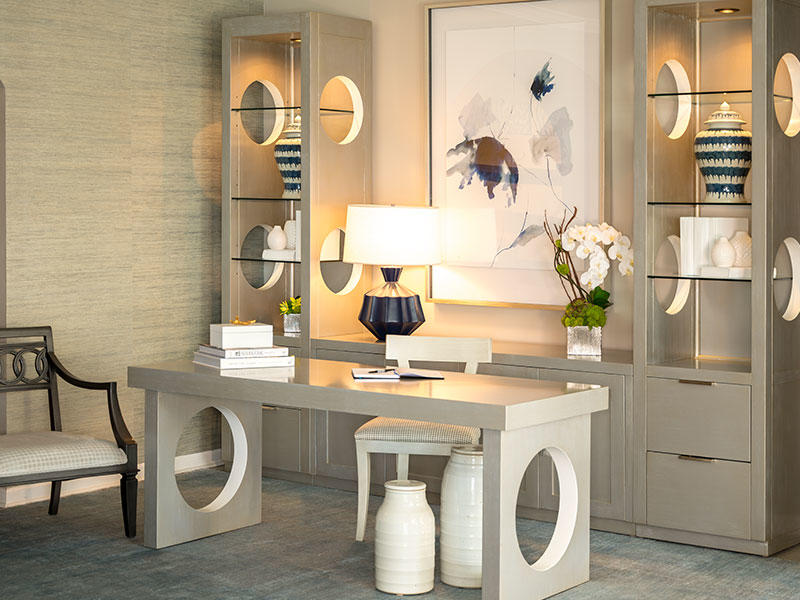 Office Furniture
Make your office a haven for creativity while enhancing productivity with Old Biscayne Bay desks and other office furnishings. Desks could be a simple, clean surface–like a writing desk–but they could also be multifunctional configurations that include shelves, drawers, and storage compartments. Filing cabinets, wall units, bookcases, corner desks, credenzas, secretaries, and even a printer stand can complete your office furniture ensemble, with coordinating design elements, materials, and finishes.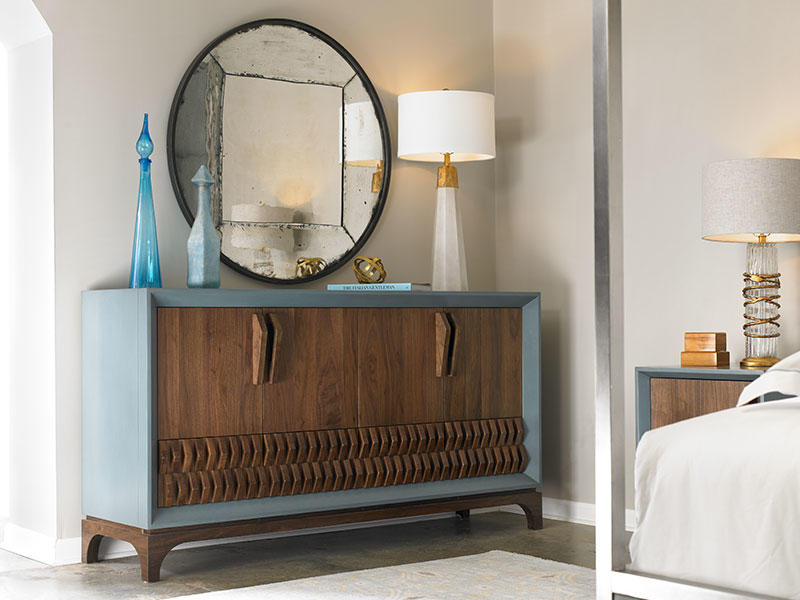 Storage Solutions and Occasional Pieces
The key to an organized space is having a place for everything. Old Biscayne Design wall units and cabinets include shelving, drawers, and compartments that are perfect for housing life's necessities or for displaying a prized collection. An elegant TV console or media chest provides far more style than a screen does on its own, and an elegant étagère, curio, bookcase, library or display cabinet, hutch or corner unit can be the perfect addition to your living space. Tuck them into low-traffic areas for some interest and additional storage, or use them to prominently display your favorite items.
Dot your living space with a convenient cocktail table, nesting table, demi-lune table, end table or side table to lend convenience paired with whimsy, structure, and even architectural elements. Bars, bar cabinets, and a hostess stand fit in perfectly with your dining room suite. And sliding doors and room screens divide spaces and create eye-pleasing vignettes.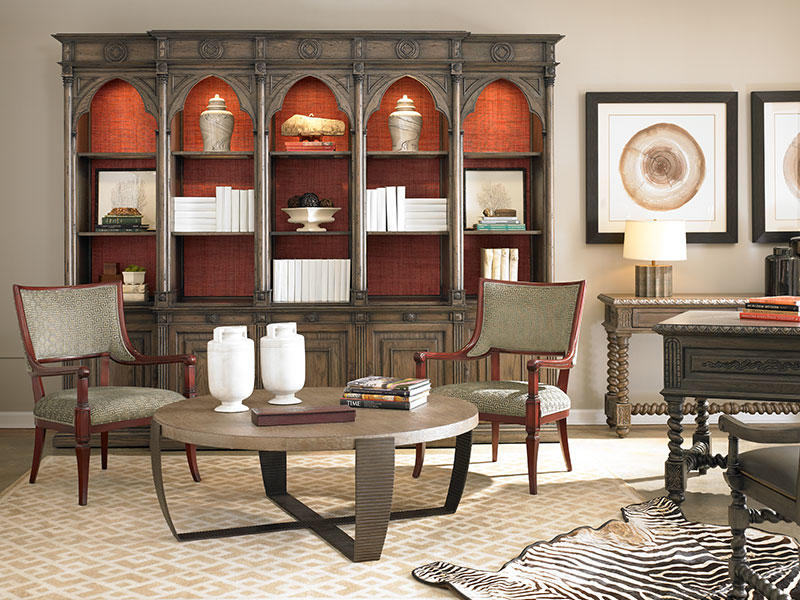 If Old Biscayne Designs' furniture collection appeals to your sense of style, you can easily shop and order from their offerings at Sedlak Interiors. Get in touch to learn more!
Schedule a Time to Meet With Our Old Biscayne Designs Experts »