Jonathan Charles' Inspired Designs, Impressive Historical Accuracy
Jonathan Charles Fine Furniture is an English company that excels in the art of high-quality European antique reproduction. Master craftspeople also use key design features to create proprietary transitional pieces. Jonathan Charles' meticulous attention to detail is evident from their use of age-old construction techniques to their in-house brass foundry. Skilled artisans breathe life and soul into their wide range of furnishings, using only the finest materials. A piece of Jonathan Charles furniture will add elegance and sophistication to any space.
If furniture by Johnathon Charles piques your interest, you can easily shop and order from their collections at Sedlak Interiors. Get in touch to learn more!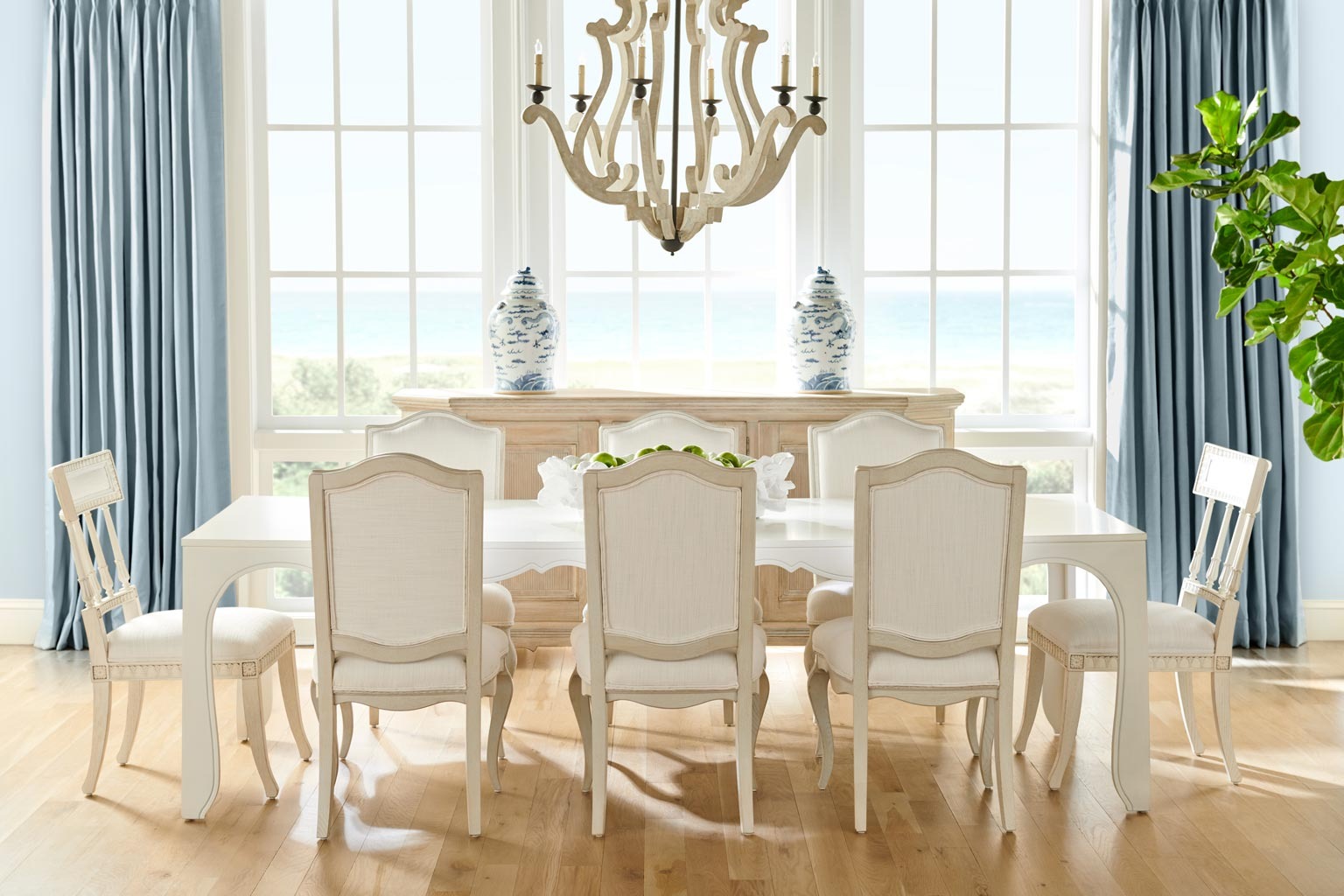 Everyday Luxury Living Room Furniture
Characterize your living space using fine finishes, rich detail, and luxe fabrics. Whether you opt for a traditional Chesterfield sofa and coordinating lounge chair, or prefer a mid-century modern silhouette, there is a piece for your space. A French style salon chair or settee makes an elegant statement. Pair Jonathan Charles chairs with an end table, side table, coffee table, or cocktail table featuring inlaid marquetry, bronze casting, or hand carving and you are sure to set a luxurious scene. Regency nesting tables add a whimsical but practical touch while a William and Mary walnut entertainment center conceals modern convenience behind fine oyster veneered, panelled doors. Rosewood, zebrano, and Argentinian walnut add texture and natural warmth to your home and Calacatta marble from northern Tuscany lends undeniable richness. A modern waterfall table or streamlined occasional table complements a more contemporary space, and an array of antique or contemporary wingback chairs, slipper chairs, or fluted chairs pair perfectly with a plush or tufted ottoman or footrest. A Gothic style mahogany library cabinet or Rococo side table are tasteful nods to classic design. Jonathan Charles benches and chaise lounges create optional, high-style seating while offering ornate and sumptuous details from a distinctly European past.
Jonathan Charles Rich, Glamorous, and Restful Bedrooms
Add glamour and luxury to your dreamspace with Jonathan Charles' upholstered beds or bed frames. Available in king, queen, and California king, high-luster gilded mahogany, intricate carving, rich gold detailing, and antique four-poster replicas are just a few of their elegant options. Whether you prefer to evoke a royal air or infuse your space with restrained refinement, a Jonathan Charles platform bed will surely hit the mark. Gift your beloved pet their own deluxe four-poster pet bed to complete the look. Bedside tables and nightstands draw from key design profiles and dressing chairs invite you to linger and relax. Whatever your interior design scheme, it is enhanced and elevated with a Jonathan Charles bedroom ensemble.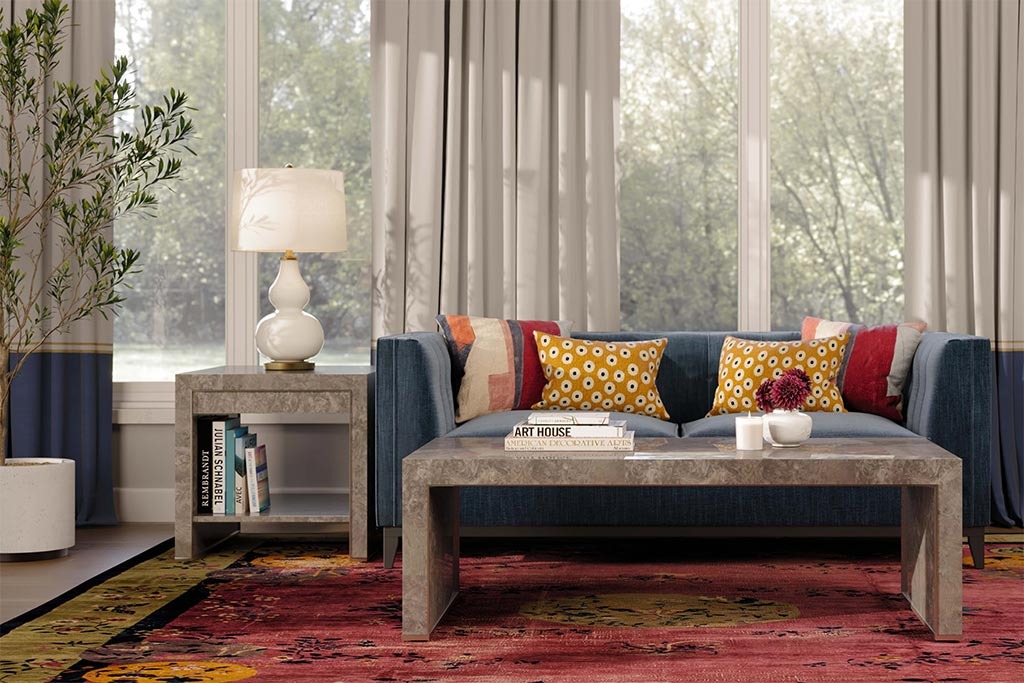 Refined Dining Room Furniture
Jonathan Charles' Custom Dining Table Program offers you an opportunity to perfect dimensions, choose the ideal wood finishes, and add fine detailing to create a dining experience that is uniquely your own. Embellish your dining room with French provincial, Neoclassical, and Tudor classics, or add everyday charm with a rustic, country-style walnut sideboard. Jonathan Charles' dining chair options are vast and include traditional ladderback chairs and dining benches, plush upholstering, and smooth wooden bar stools. Side tables, drink tables, corner tables, and ornate bar carts offer convenience paired with luxurious materials and stylish design. A chic bistro table or game table can complement your space, creating a cozy breakfast nook and the perfect spot for fun and conversation. Collections vary from natural oak to deep tones decorated with highly stylized motifs, and will accentuate the fine architectural details of any space. A sideboard, buffet, credenza, bar chest, display cabinet, or silverware collector adds functionality and purpose while creating an overall stylish ensemble.
Home Office Furniture That Marries Function with Style
Harmonize your work or learning space with your home's existing décor by incorporating a Jonathan Charles desk with antique detailing, streamlined surfaces, or ample storage space. Whether you opt for a model featuring ornate carving and French renaissance style, or you prefer a casual and traditional writing desk, Jonathan Charles has the ideal model for your home office. From hammered iron, oyster desktops, traditional Italian lion's paw feet, or an early Victorian mahogany partners desk with antique green leather, all desks are created with today's technology in mind. Add an ample Chesterfield desk chair to work in comfort and style. And a Regency-style shelf, ornate display case, or casual étagère can house inspiration sources and office must-haves.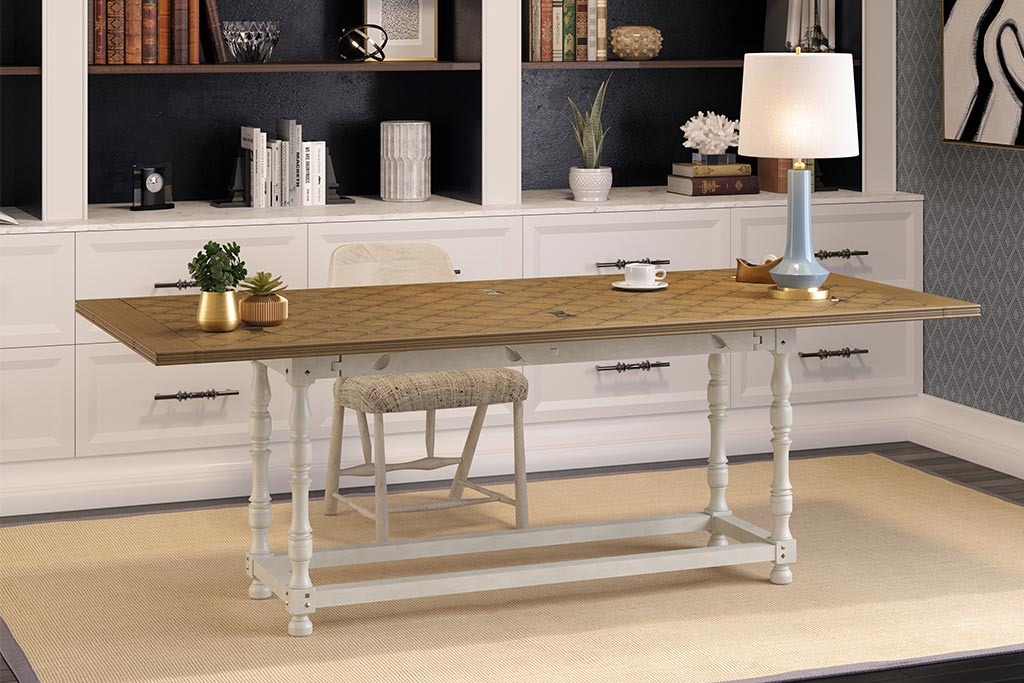 Accessories with Antique Inspiration by Jonathan Charles
Dress up your entry space, hallway, or add elegance to any room with Jonathan Charles mirrors, featuring Regency, Renaissance, Art Deco, Empire, and Rococo design elements. Gilding, églomisé, nautical flourishes, and dramatic detailing grace both full-length and modestly sized models that complement your home's interior design and add visual interest. Screens and panels can divide a space and aid in functionality, while numerous figurines, paintings, statuettes, sculptures, and miniatures display your personal sense of style. Metallic hues reflect light from floor lamps, table lamps, and desk lamps, and expertly turned wooden candle holders add classic charm. Elegantly veneered boxes conveniently house exotic wood coasters and decanters and detailed marquetry graces a lovely serving tray. An umbrella rack or walking stick rack offers a quaint but practical touch to any entryway.