Luxuriously Styled Furnishings from French Heritage
French Heritage has been crafting furniture of the finest quality for over 35 years and continues to be known for their exceptional designs. This mainstay company leverages a unique position as a manufacturer of choice among leading interior design experts, due in part to their ability to fine-tune product customizations. They are dedicated to providing the furniture that customers desire while doing their part to preserve the natural resources that make their work possible. French Heritage is proud to be a founding member of the Sustainable Furnishings Council and to invest in reforestation via the Trees4Trees initiative, along with insisting on fair labor practices and other socially responsible programs.

Memorable Interior Furnishings for Living, Dining, and Relaxing
Boasting unparalleled craftsmanship, French Heritage living room furniture is made with your comfort and sense of style in mind. Every piece is made to last, featuring structural integrity and quality materials. Sofas bring clean lines or more curvilinear profiles to your gathering spaces. Mix in a French Heritage coffee table, side table, ottoman, or accent chair. A lounge chair is ideal for relaxing with a good read, next to their bookcase or custom wall unit, the ideal place for storing displayed treasures and your literary collection. Or make use of their TV cabinet or entertainment unit in your family room. A petite desk fits right in, bringing organization and convenience to any space. Add in a side table and the ensemble is complete.
From a sleek mid-century modern dining table and dining chairs set, to an ornate credenza or streamlined buffet, French Heritage offers the ideal dining options to fit your personal sense of interior design. Walnut, oak, and parquet surfaces lend natural warmth, distressed or weathered finishes introduce a relaxed vibe, and intricately carved facades lend an air of formality to grand dining rooms. Opt for a wine case or side bar, and incorporate upholstered side chairs or bar stools for a more casual dining experience.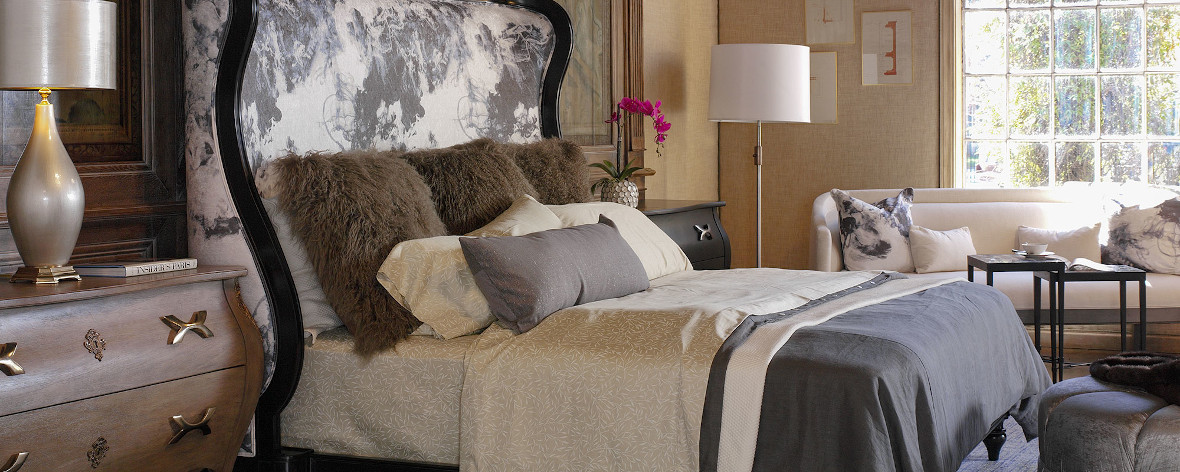 French Heritage upholstered beds are the ultimate statement of high-style in the bedroom. Chests and semainiers offer refined storage options, while side tables, end tables, and nightstands add design and flair while serving a practical need. Use an upholstered screen for a glamorous touch, and don't forget an upholstered bench or vanity and stool for oft-neglected seating options.
If French Heritage's collection of fine furnishings appeals to your sense of style, you can easily shop and order from their collections at Sedlak Interiors. Get in touch to learn more!