Fashion-Forward Furnishings, Lighting, and Accessories from Uttermost
Founded in 1975 by Bob and Belle Cooper, Uttermost has always been family-owned and -operated, with Mac Cooper leading the company today. The company operates in Virginia and California domestically, along with facilities in Asia and a large team of global representatives. Uttermost works with designers to provide their customers on-trend and classically-inspired selections in furniture and accessories that grace every room of the home, and are also widely used in hospitality projects. Their solid designs pair with quality manufacturing to create pieces that will stand the test of time. Whether from their main collection or their exclusive REVELATION brand, an Uttermost selection is sure to spark creativity and conversation in your space. Both the company name and their culture are informed by scripture and faith, and they greatly value their Uttermost families––from employees to customers.
CONNECT WITH AN INTERIOR DESIGNER
Furniture With Unique Details, Made From Quality Materials
Uttermost furniture is all-inclusive for your living, dining, and entertainment zones. Choose from their wide array of accent tables, cocktail tables, side tables, drink tables, and coffee tables to add stylish convenience to anywhere you enjoy relaxing and entertaining guests. End tables, consoles, nesting tables, and sofa tables ensure that no matter where you are in your home, your favorite drink or good read isn't far out of reach. Dining tables elevate your space while providing a comfortable and spacious setting to enjoy great food and time with family and friends. Choose a quaint garden stool for indoor or outdoor seating, an impromptu table, or as a décor element. Media consoles, chests, cabinets, sideboards, display cabinets, étagères and bookcases all feature impeccable design elements, both modern and rustic, but always with an air of sophistication. Pieces include metal, glass, marble, reclaimed wood, muted neutral tones, natural motifs, clean lines and sumptuous curves, incorporating design contrasts and inherent dynamic detailing.

When it comes to seating options, Uttermost accent chairs, sofas, and swivel chairs add an understated sense of luxury to any room. Swivel-gliders, chair and a halfs, club chairs, and upholstered dining chairs feature smooth and sleek leather, plush upholstery options, nailhead trim, custom-stained wooden elements, and clear stylistic designs. Ottomans, benches, and poufs add textural accents while also creating extra seating and bringing the ultimate in convenience and relaxation to your living spaces. For entertainment areas, Uttermost bar stools, counter stools, bar carts, and bar consoles keep everything you need right within reach. They also offer a rugged storage trunk, several desk options, and a pedestal for one of their special sculptures, vases, candleholders, or other artwork.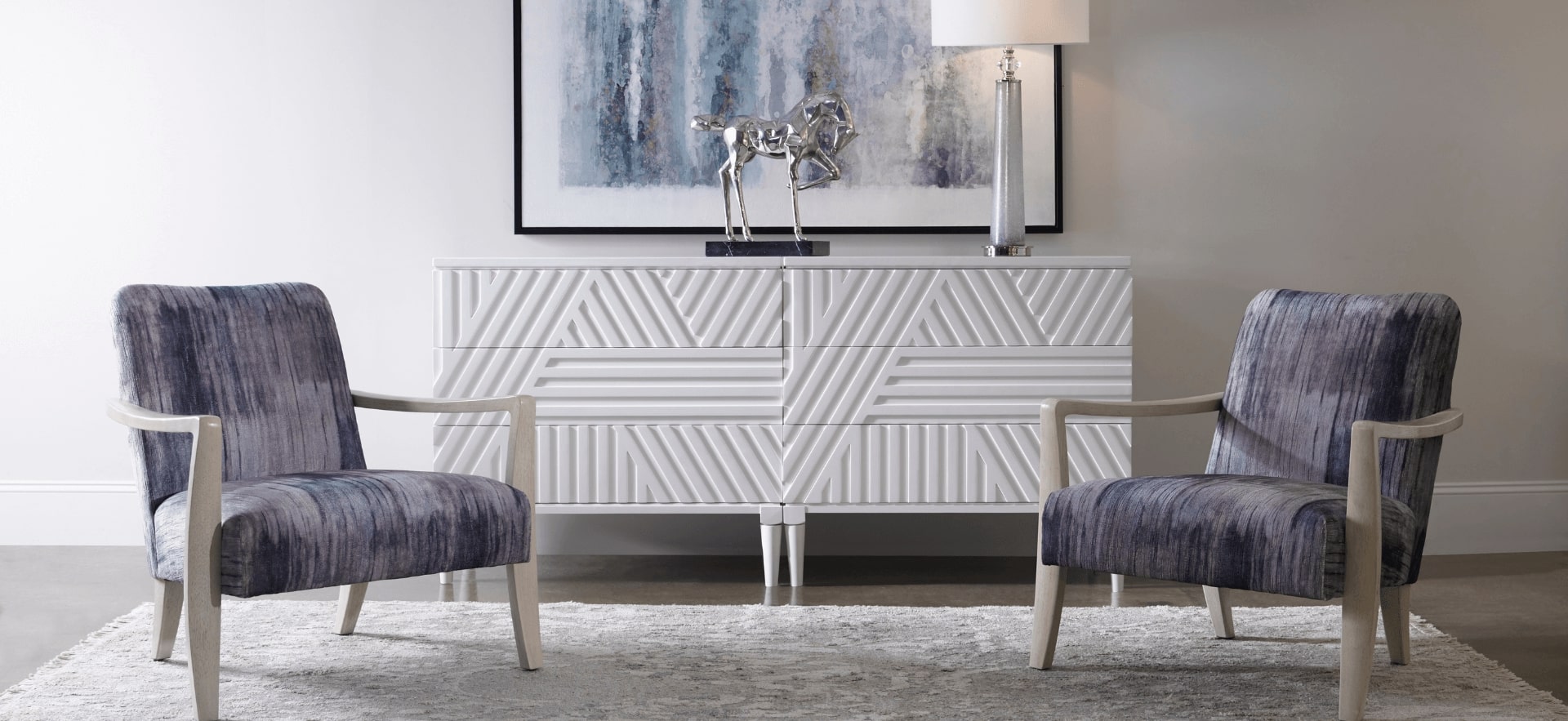 Decorative Lighting Products from Uttermost
From fine furniture to unique lighting, every Uttermost piece is finished with great care and much pride. The undeniable depth and character of their finishes comes from a multi-step, hand application process that brings out the best in any material. This proprietary technique means that every lamp, wall sconce, chandelier, flush-mount, or pendant light will be of the highest quality and will be both a beautiful accent and practical addition to your home. Table lamps, buffet lamps, floor lamps, and desk lamps vary in height and size, each designed specifically for its ideal application. Accent lamps feature dynamic design and eye-catching materials and motifs. Outdoor lighting options made of stacked stone and molded concrete are paired with a weather resistant shade. Hand-forged wrought iron and hammered steel, porcelain, glass, leather, cast aluminum, cast brass, and cast resin are just some of the materials that combine to create Uttermost lighting's signature look.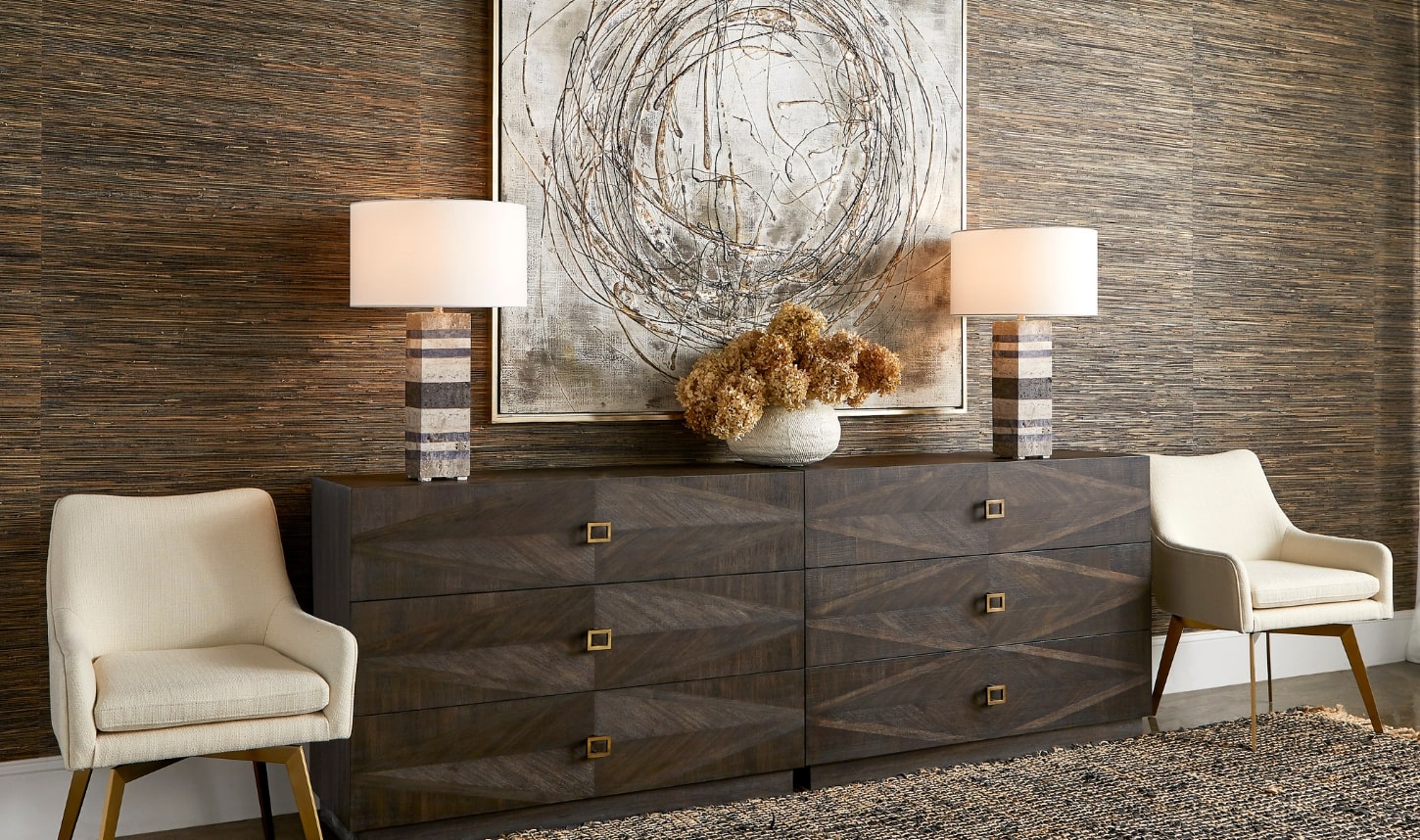 Uttermost Rugs and Accessories Add Style to Any Room
Mirrors can enlarge and expand a room, lighten a space, play a practical role, and can also make a clear fashion statement. While mirrors are seen as an accessory, they are serious multitaskers when it comes to an interior design plan. Uttermost mirrors are available in an array of shapes, sizes, and finishes. Thanks to technological advances, their mirrors withstand the natural humidity found in a bathroom.
Meanwhile, well-chosen artwork adds color, warmth, and personality to your home. Make your selection from metal or wooden wall décor, framed objects, wall shelves, ceramic pieces, framed botanical specimens, hand-painted canvas and framed prints. Oil reproductions and metal sculptures are also available, with styles ranging from modern abstract to rustic, traditional, and mid-century designs.
Uttermost has a piece for every corner of your home, including wall clocks and table clocks so that you and your family can keep time in style. Their tufted, hand-loomed, flat-weave, and machine-woven rugs offer comfort and tie a room together with neutral, subdued tones and patterns. Additional accessories include botanicals, bookends, display bowls, trays, and boxes, decorative bottles, canisters, and fireplace screens.
If Uttermost appeals to your sense of style, you can easily shop and order from their collections at Sedlak Interiors. Get in touch to learn more!