Industry Leader in Fine Home Furnishings
John-Richard was formed in 1980 as a sideline business to one of the largest retail furniture operations in the Mississippi Delta. It grew from a small five-person business to an international company that now includes offices and factories in Vietnam, Indonesia, India, and China. John-Richard's distinctive, globally-inspired furniture collections are hand-crafted by renowned artists and award-winning designers. Foreign cultures and exotic materials are showcased in their sofas, ottomans, dining tables and chairs, bedroom furniture, cabinets and chests, occasional tables, accent lighting, mirrors, wall décor, accessories, and botanicals. Materials vary from unique veneers and exquisite leathers to acrylic and etched steel accents.
CONNECT WITH AN INTERIOR DESIGNER
Dining Tables & Chairs
John-Richard dining sets are ornately detailed and crafted from luxurious materials. Choose a circular dining table with a segmented tiza gesso top and a twisting pedestal inlaid in hessian. Or opt for a glass top table supported by a sculpted metal base in a gold finish. Impress your guests with an Italian-inspired dining table donned with delicate acanthus leaf carvings on the tapered, fluted legs and an antique gilded floral garland on the apron. Pair your John-Richard dining table with stylish dining chairs featuring their signature Verona hardwood finish, églomisé, and linen upholstery.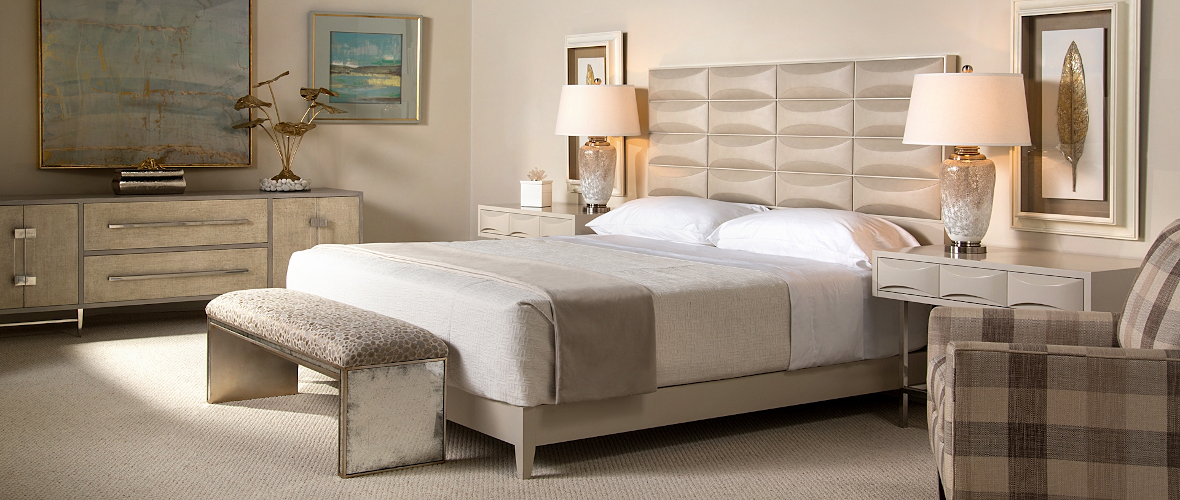 Bedroom Furniture
John-Richard's Queen and King size beds are available with wood frames and plinth bases in gorgeous finishes, upholstered headboards and rails in velvet and other fabrics, and decorative accents like bead molding metallic bezels. Nightstands and bedside tables are fitted with soft-closing drawer runners for quiet handling and many models include ample storage space and adjustable interior shelves. Drawer fronts are stylishly designed with a variety of fabrics, patterns, hardwoods and veneers, antique finishes, overlays, inlays, metallic accents, and decorative pulls.
Cabinets
Browse John-Richard's attractive breakfront cabinets, sideboards, buffets, and credenzas. They feature silver leaf, gold leaf, brushed and antique brass, nickel, and stainless steel accents. Eye-catching designs include agate drawer fronts, crystal geode handles, and faux crocodile hide. Some models include open display shelving with touch-sensitive lighting. Whether you prefer French country style décor or contemporary modern styling, John-Richard's cabinet selection is sure to impress.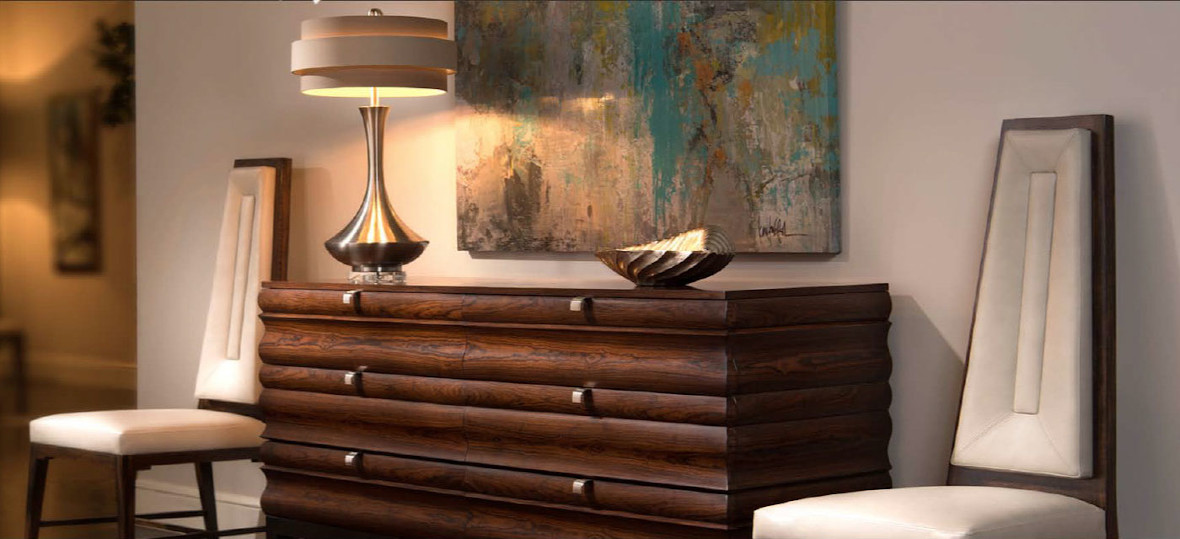 Occasional Tables
Choose from an array of fashionable nesting side tables, sofa tables, console tables, coffee tables, and cocktail tables by John-Richard. Table tops showcase materials ranging from calcite and marble to acrylic and antique mirrors. Images by artists such as Austin Allen James and Shaye Rawson are applied to the tops of cocktail tables and coffee tables for an added sense of sophistication. Hand-applied finishes are a testament to John-Richard's artisanal craftsmanship, while metallic frames and accents in nickel, stainless steel, iron, cast aluminum, brass, and silver leaf complete the designs.
Accent Lighting
Illuminate your living spaces and accent your décor with luxe lighting by John-Richard. Their selection of fixed wall and ceiling lighting ranges from crystal wall sconces to glorious pendant chandeliers. Etched glass, hand-blown glass, art glass, and carved glass display superior workmanship with an attention to detail. Table lamps and floor lamps are crafted from a variety of beautiful materials to suit any decor, such as alabaster, quartz, marble, ceramic, mica, porcelain, enamel, slate, and rosé stone. From sculptured pieces and scroll designs to tassels and intricate hand-beading, John-Richard incorporates a unique artistic flair into their accent lighting.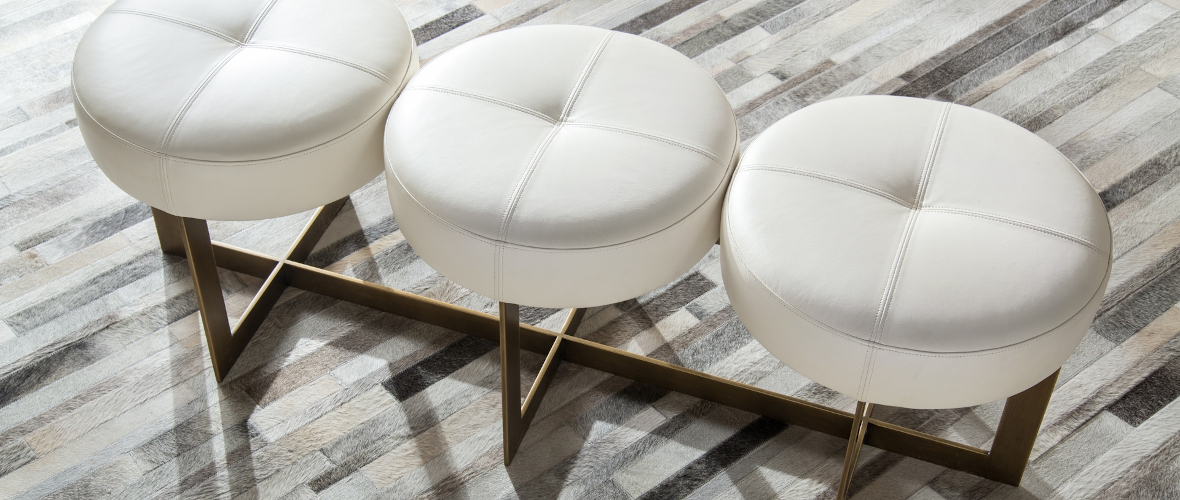 Mirrors & Wall Décor
Adorn your walls with John-Richard's artistic mirrors and wall décor. Modern beveled mirrors are transformed into works of art when combined with reverse hand-painting by renowned glass artists, high-gloss vitreous finishes, shell patterns, and striking embellishments like crystal geodes and delicate cockbead moldings. John-Richard's collection of wall artwork crafted by refined artists ranges from original oil and watercolor paintings to hand-quilled paper and unique pin and thread designs.
Accessories & Botanicals
Accessorize your home with John-Richard accents. Decorative boxes made of leather and ornate hand-beaded designs can store your precious jewelry in style. Vases, jars, urns, bowls, planters, and sculptures can create a complete designer look in every room. For a romantic night in, light up some John-Richard candleholders and set the dining table with their hand-crafted napkin rings. John-Richard also offers nearly 300 botanical decor options, including lilies, orchids, tulips, ferns, succulents, bamboo, peonies, roses, hydrangeas, magnolias, and fig trees.