HEKMAN FURNITURE BRINGS COMFORTABLE LIVING TO EVERY ROOM IN THE HOME
Hekman Furniture is part of the Howard Miller Family of Companies and has been a leader in producing fine furnishings for many decades. Hekman Furniture offers dining room, bedroom, living room, and home office furnishings that are designed and crafted for comfortable living in any home. Customize upholstery, finishes, and detailing accents on all dining chairs, bar stools, counter stools, office chairs, headboards, and bed frames to ensure that your selected furnishings coordinate perfectly with your existing interior design scheme.
If Hekman Furniture sounds like a good fit for your home, you can easily shop and order from their collections at Sedlak Interiors. Get in touch to learn more!

LIVING ROOM FURNITURE WITH UNIQUE FLAIR
Deck out your living space with Hekman Furniture's expansive and coordinating collection of striking accent chairs, sleek metro sofas, and plush ottomans. Nesting tables add space-saving convenience and simplify entertaining, while high-style accent tables, lamp tables, and end tables add undeniable visual flair and imbue your space with your own personal sense of style. Coffee tables feature metallic elements, warm wooden hues, nature-inspired motifs, and geometric designs – there is truly a piece for every interior design preference. Add streamlined storage space to your living room furniture ensemble with a Hekman sofa table or console, and organize your entertainment zone with their tech-friendly entertainment consoles. A pub or game table caps off the collection, and brings a comfortable vibe to any occasion.
REFINED DINING ROOM OPTIONS FROM HEKMAN FURNITURE
Whatever your dining room needs, Hekman offers something to fit the bill. With a vast array of dining tables and comfortable dining chairs, stools, settees, and benches available in all sizes, styles, shapes, and finishes, it's only a matter of time before a piece in their collection speaks to you. Customize your dining seating options to coordinate with your existing décor and select a buffet or server to bring an air of sophistication to your dining space. Display cabinets and bookcases are ideal to hold vital entertaining ware, precious heirlooms, and unusual collectibles, making for an engaging source of easy conversation.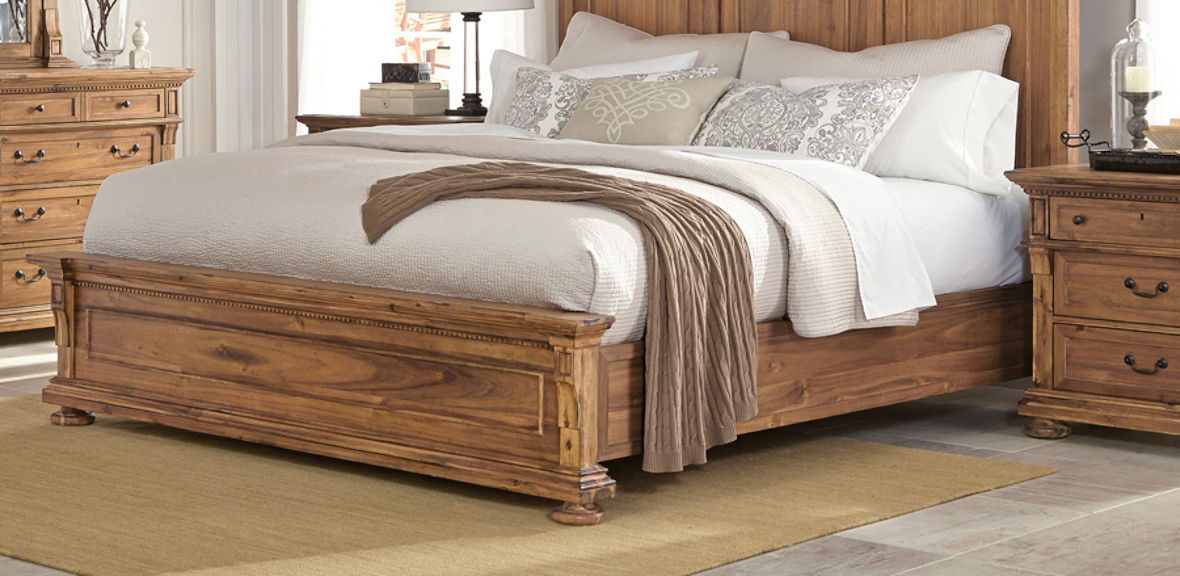 LUXURIOUS BEDROOM FURNITURE BRINGS COHESION AND STYLE
Hekman Furniture's bedroom selections make for the ideal suit of coordinating styles. Choose from beds with upholstered headboards or classic wooden sleigh, paneled, or louvered beds. Mix and match night stand options and select an ample dresser or chest of drawers for stylish, concealed storage needs. Mirrors repeat design elements and bring a sense of harmony to your bedroom's décor.
SMART OFFICE SOLUTIONS FROM HEKMAN FURNITURE
Whether a permanent office or a multifunctional space, your work zone deserves the same care and attention as the rest of your home. Hekman Furniture's array of accent desks and adjustable height desks are available in a range of sizes and styles and will bring an air of professionalism while also serving a practical purpose in your home. Opt for coordinating filing cabinets that lend style and visual appeal to your office space. Open shelving and bookcases are ideal for housing work materials, literary collections, and inspiration sources. Top off the office ensemble with office chairs and executive chairs that can be customized to suit your individual style preference, including a classically designed model, upholstered in rich, buttery leather.