Rustic Hickory Furniture from Flat Rock
Flat Rock Furniture was established in 1986 by Van McQueen and today is headquartered in Indiana, USA. With roots that run deep and tap into the three-hundred-year-old American tradition of crafting tree sapling furniture, Flat Rock is honored to preserve this distinctive style. Flat Rock has worked closely with renowned designer Jim Peed to expose customers to a more sophisticated take on rustic furniture. Those efforts led to them becoming a top choice of designers and collectors looking for furniture in a rustic style. Flat Rock pieces are seen in homes, hotels, restaurants, resorts, and private clubs across America and throughout the world.
Their modern-day, talented craftsmen continue their use of time-honored techniques, building heirloom furniture with undeniable elegance and durability to fit your interior design preferences. If Flat Rock furniture appeals to your sense of style, you can easily shop and order from their collections at Sedlak Interiors. Get in touch to learn more!
CONNECT WITH AN INTERIOR DESIGNER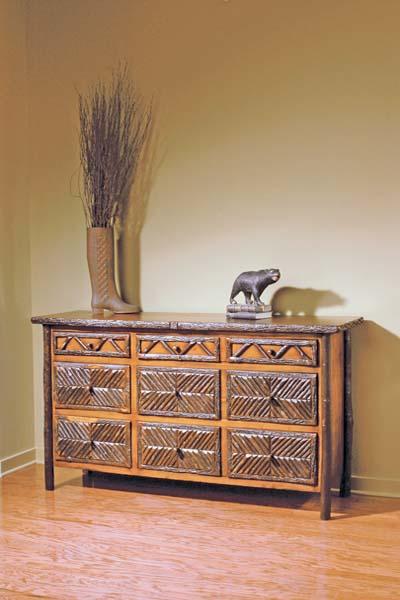 Sustainable, Striking Materials
The most sustainable practice that Flat Rock employs is their use of hickory saplings–full grown trees that are thin and shorter due to shade from a dense tree canopy. Removal of these saplings before they die clears the way for more growth and helps to reduce fire risk. Hickory saplings are a rapidly renewable resource, taking only 8-10 years to regrow from existing stumps. Their removal contributes to the overall health and good stewardship of native forests. Despite being young, these small trees are stronger than oak and also boast a distinctive bark and grain, which is highlighted in craftspersons' handiwork.
Unique Dining Options from Flat Rock Furniture
Flat Rock Furniture is designed to attract attention, and hickory is used for its strength and durability. From their arm chairs and bar chairs to side chairs and benches, Flat Rock Furniture dining chairs capture the essence of rustic style. Their seating options pair perfectly with their extension tables, bar tables, game tables, and other dining table designs for the ultimate cozy dining suite in your cabin or café nook. Flat Rock furniture features natural elements like birch bark, cherry branches, and rough-hewn wood. Their novel coat rack and bench pairing is both practical and whimsical, and is sure to enhance a homey kitchen corner.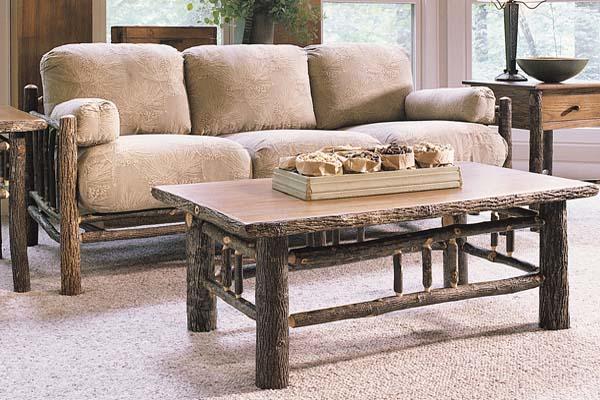 Everyday Elegance with Flat Rock Living Room Furniture
The singularity of each piece of wood is embraced and built into every design, so less material is wasted in the production process and each piece of furniture is unique. That means that every sofa, side chair, barrel chair, settee, and wing chair has its own vibe. Coordinating ottomans, rocking chairs, love seats, and hoop chairs bring something special to your family and entertainment areas. Traditional methods of craftsmanship pair with a full array of textural and patterned fabrics, rich leathers, and various wood finishes, including preserved natural bark for a truly rustic feel. Bring convenience and style into your living spaces with a Flat Rock cocktail table, coffee table, end table, or sofa table. TV consoles and TV stands finish the collection and allow for modern enjoyment of traditional favorites.
Cabinetry and Bedroom Furniture by Flat Rock
Flat Rock Furniture bed frames are as traditional as they come, with headboards and footboards complete with one-of-a-kind wooden rails. Poster beds, panel beds, bunk beds and sleigh beds all make use of the unique and nostalgic look of natural hickory wood. Outfit your quiet corners with a writing desk, and include a nightstand, blanket chest, armoire, or dresser to complete the ensemble. Choose your ideal finish to customize every piece, including shelves, desk and table tops, which are available in pine, hickory, oak or cherry.
Flat Rock Accent Furniture
Complete your Flat Rock collection with one of their bookcases, where you can house your latest reads. A coat rack is perfect in the entryway, and a display case makes the most of collectibles and treasured finds. A hutch top and base pair perfectly to store your heirloom serving dishes, and a sideboard makes entertaining a group easy. Include a wine rack cabinet for safe storage and easy access for a night under the stars.
Schedule a Time to Meet With Our Flat Rock Furniture Experts »