ELRAN MOTION FURNITURE: A REPUTATION BUILT ON COMFORT
In 1967 on the island of Montreal, Irving Lubin founded the first Canadian company to specialize in the design and manufacture of reclining furniture. Now a second-generation family business managed by Eric Abecassis, Elran has grown to become one of Canada's top furniture exporters. They offer a complete collection of upholstered reclining chairs, loveseats, sofas, sectionals, and home theater seating that can be customized into over 800 unique configurations! Elran's skilled sewing and upholstery specialists use a wide range of fabric, leather, and vinyl to handcraft motion furniture of the highest quality. As an industry leader in reclining technology, Elran continues to fine-tune its innovative recliner mechanisms in order to enhance performance and comfort features.
SUPERIOR MATERIALS & MANUFACTURING PROCESS
Leggett & Platt® Furniture Components, a leader in mechanism design, developed Elran's highly advanced, gravity-fed reclining mechanism that has equal weight distribution as both sides work simultaneously. Elran uses construction-grade spruce plywood that doesn't warp or crack as well as high-density, pre-crushed foam for consistent and enduring comfort. New curled polyester fiber demonstrates greater resiliency since it retains its shape longer than other materials. As a result of cellular manufacturing and a just-in-time production system, Elran's 235,000 ft² plant is highly automated and efficient. Their step-by-step verification system during production maintains Elran's meticulous quality control standards.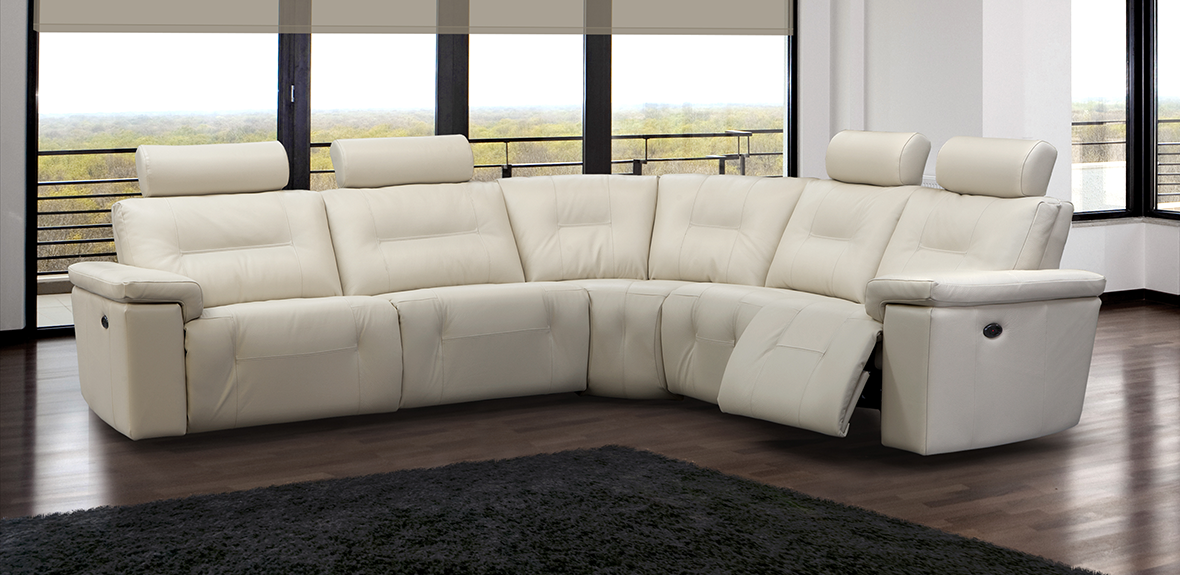 CUSTOM RECLINERS & HOME THEATER SEATING
Elran's reclining furniture is available with an array of motion capabilities in hundreds of different configurations. Models are equipped with either a manual latch handle and push-back mechanism or push button powered reclining and a built-in battery backup in case of power failure. The furniture only needs to be 5.5" away from the wall to fully recline. All of the reclining furniture backs are removable for easier transport and placement.

RECLINING CHAIRS
Models of Elran reclining chairs include:
Reclining glider rocker chairs

Reclining swivel glider chair with 360° swivel base or 160° swivel base

Reclining rocker chair

Motorized lift reclining chair with remote
RECLINING LOVESEATS & SOFAS
Choose a dual reclining loveseat or a dual rocker reclining loveseat where each seat independently rocks and reclines. Many sofa and sectional models can include a drawer under the middle seat for extra media storage space. Elran reclining sofas are available in the following configurations:
Chaise with adjustable tension push-back reclining mechanism

Wide sofa with two recliners

Sofa with two recliners and stationary center unit
RECLINING SECTIONALS & HOME THEATER SEATING
Custom design your reclining sectional configuration to include one or more reclining loveseats, sofas, Cleopatra chaises, and corner units. Create the perfect movie-watching environment with Elran's home theater seating, available with the following features:
Two to four recliners per configuration

One to four cup holders in black or silver finish with LED lighting

Straight or curved integrated console units