Inspired by Innovation
Since 1923, Italian furniture company Calligaris has been designing pieces that effortlessly marry function and elegance. Innovation is a key focus, and they offer practical solutions without sacrificing essential comfort. Calligaris uses the finest materials, rigorously tested for durability and performance. After decades of experience creating furnishings, Calligaris is still experimenting, adapting, and embracing change. Contemporary design for real life is their legacy.
CONNECT WITH AN INTERIOR DESIGNER
Sustainable, Responsible Management
At Calligaris, innovation means constant problem solving. Accomplishing a task efficiently, safely, and with minimal effect on resources is key to their driving philosophy. Solar panels are used to reduce energy consumption, and recycled plastics play a central role in their iconic products. The company is proud to be working toward ISO 14001 certification, and is dedicated to workers' health and safety. They also ensure that wood products are responsibly sourced and managed and have earned a Forest Stewardship Council (FSC) certification for their efforts.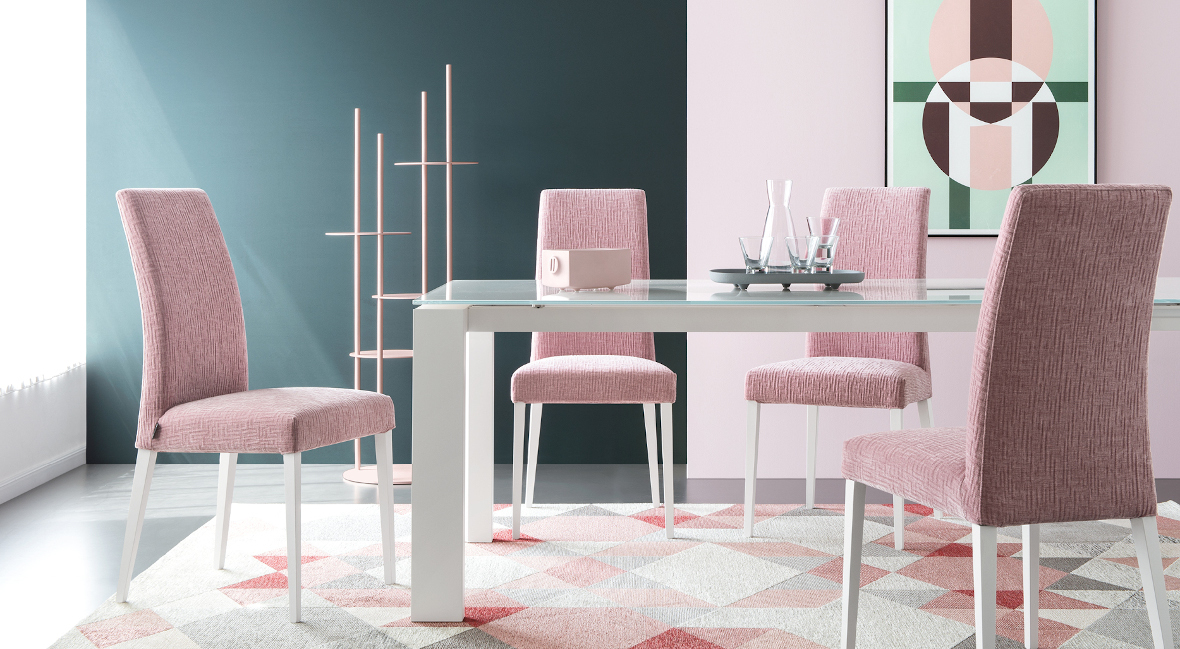 Modern Seating
Calligaris offers an assortment of comfortable and chic seating options to fill any need. Chairs with or without arms offer additional seating or pair perfectly with one of their dining tables. Ottomans and benches lend an unassuming vibe to living and working spaces. And home-office chairs add style and comfort to any work day. Crafted from wood, metals, leather, fine upholstery, and recycled plastics, Calligaris' chairs combine minimalism, elegance, and practicality. Whether swiveling, stackable, or for both indoor and outdoor use, these chairs have a refined look and feel.
Fixed, swiveling, and adjustable stools feature plush upholstered and quilted seat cushions or polycarbonate seat shells paired with strong metal frames. Thoroughly modern with retro and mid-century echoes, Calligaris' selection of stools help to create space in restricted environments, reinventing living spaces.
Various sofa models offer dozens of seating configurations, including a built-in chaise. Classic, clean lines form the profile, and both wooden and metal feet perch the sofa above flooring. Hundreds of upholstery options mean that every sofa is one-of-a-kind, custom-made for a unique living space.
Tables
A dazzling array of profiles, textures, materials, and finishes are found in Calligaris' table selections. Whether fixed or extendable, dining tables can accommodate a host of guests and reflect a variety of style preferences. Rectangular, square, round and shaped – the size and style configurations are endless and feature dynamic, contrasting bases. Table tops are expertly crafted from wood, laminate, glass, and ceramic, with veneer, sheen, and etched glass options. Specialty additions like a ceramic lazy susan make convenience feel luxurious.
Coffee tables are available in classic, sophisticated constructions but also feature quirky shapes and luxe materials like nuanced, silkscreen-printed glass, and traditional Italian terrazzo and marble. Minimalist waterfall models and selections that incorporate upholstery, removable trays, and hidden storage are novelty options. Calligaris also offers a sleek desk to grace any home office and an extendable console for large dinner parties.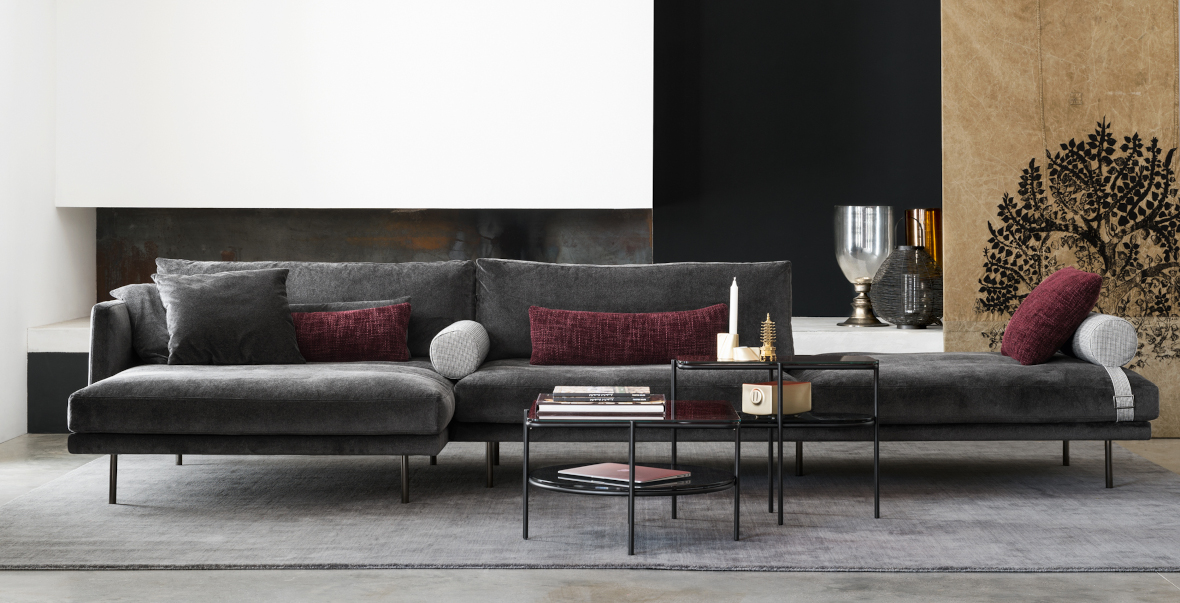 Cabinets & Sideboards
From wall units to sideboards, buffets, and curio cabinets, Calligaris' offerings bring spatial management and elegant storage options to interior spaces. Cabinets feature various configurations of handleless drawer fronts, drop-down doors, and ample shelving. A push-pull magnetic opening mechanism eliminates hardware for a clean front. Subdued bookcases showcase favorite books and precious momentos, while a smooth-finish aluminum insert adds playful color and size-focused storage. Wooden TV stands feature lacquered doors and plenty of organization. Whether crafted using veneer or solid wood, various sheen and stain options can customize a cabinet to complement any space.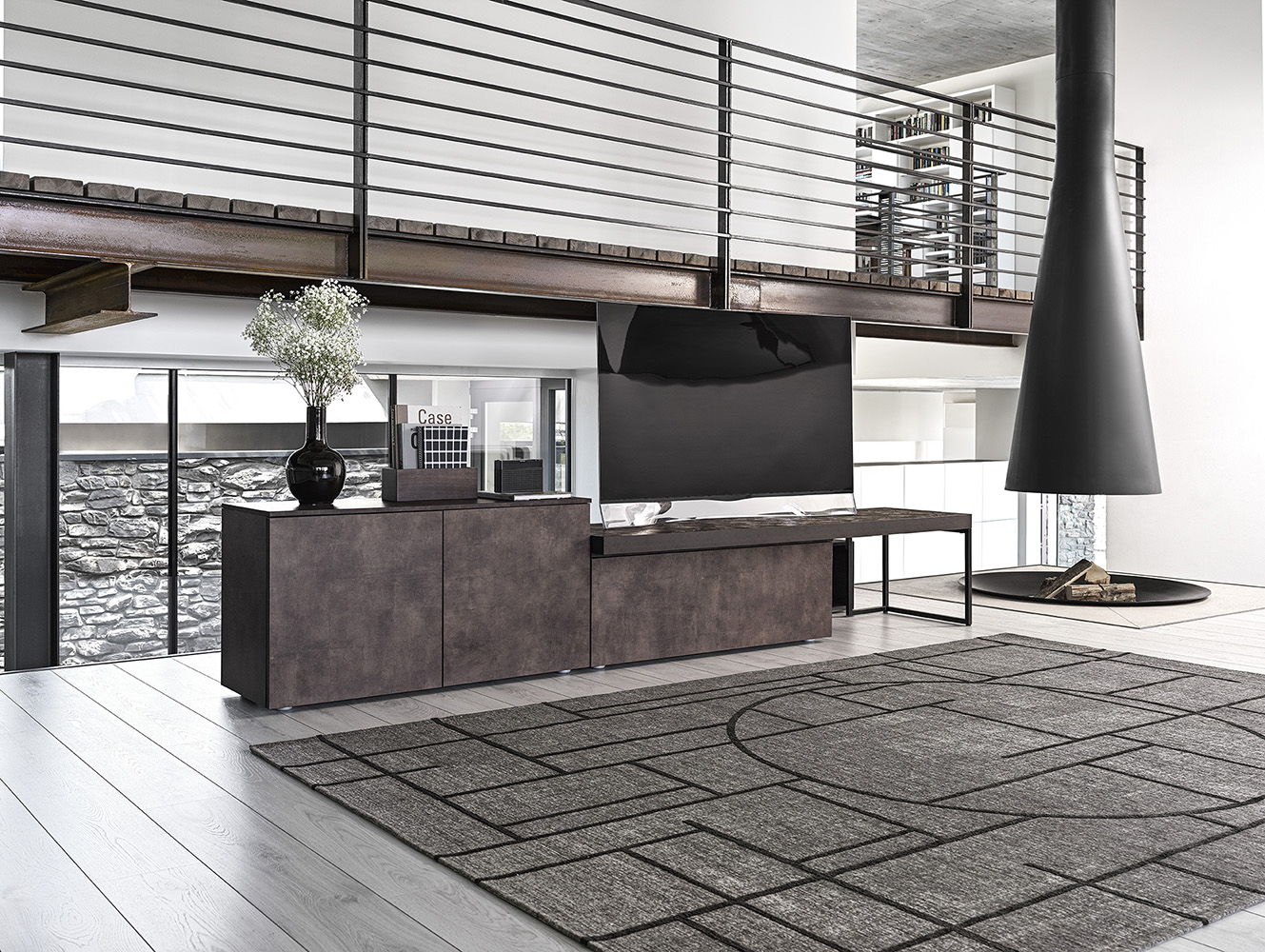 Rugs
Rug designers pull influences from across the globe, inspired by ancient motifs, Italian tilework, and both architectural and sculptural forms. Elegant pattern work reveals optical illusions and glimpses into the past, whether the patterns are woven using wool, or printed onto durable polyamide fibers. Jacquard-weaving allows for pattern control while utilizing safe, fire-retardant yarns. Polyester and polypropylene are processed to yield a hand-made feel and cotton, acrylic chenille, and polyester combine durability and softness. Calligaris' collection features both hand- and machine-made rugs that bring warmth to home, office, and hospitality settings.
Décor
Interior design isn't complete without finishing touches. These come in the form of centerpieces, storage boxes, vases, trays, throws, clocks, candle holders, framed canvas prints, and more. From sleek storage and display options, to charming and whimsical adornments, Calligaris has a carefully curated selection. Along with typical materials, cork and recycled glass bring warmth and an eclectic touch. Bold mirrors amplify a room's proportions and work well in a grouping. Classic shapes paired with unusual finish combinations create a dynamic, modern look. A leather magazine holder, nature-inspired coat rack, boldly-varnished metal shelf, technopolymer wall coat hanger, and bar cart with vintage vibes are just some of the varied options that add personality to living spaces.