Now through JANUARY 18TH
, save hundreds on Stressless® seating when you kindly donate $50 or more to a charity of your choice.
SAVE $400
ON STRESSLESS® Mayfair RECLINERS IN PALOMA COLORS
If you want to help the ones who are struggling but you're not sure how, here's something you can do that will surely be appreciated. Give $50 or more to charity, and we'll give you hundreds off most Stressless® recliners, sofas, and office chairs in return. Stop by the store or request more information today by working with our sales consultants.
SAVE $200
ON EVERY STRESSLESS® SOFA SEAT
Stressless® sofas are available in 6 attractive styles and several different configurations. (Oslo® and Manhattan® sofas are not included.) Choose a combination of 2-, 3-, or 4-seater sofas with the options of high backs, one long seat, and fixed seat backs or motorized capabilities. All seat models come with an adjustable headrest. You can also choose between either steel or wood details on the armrests.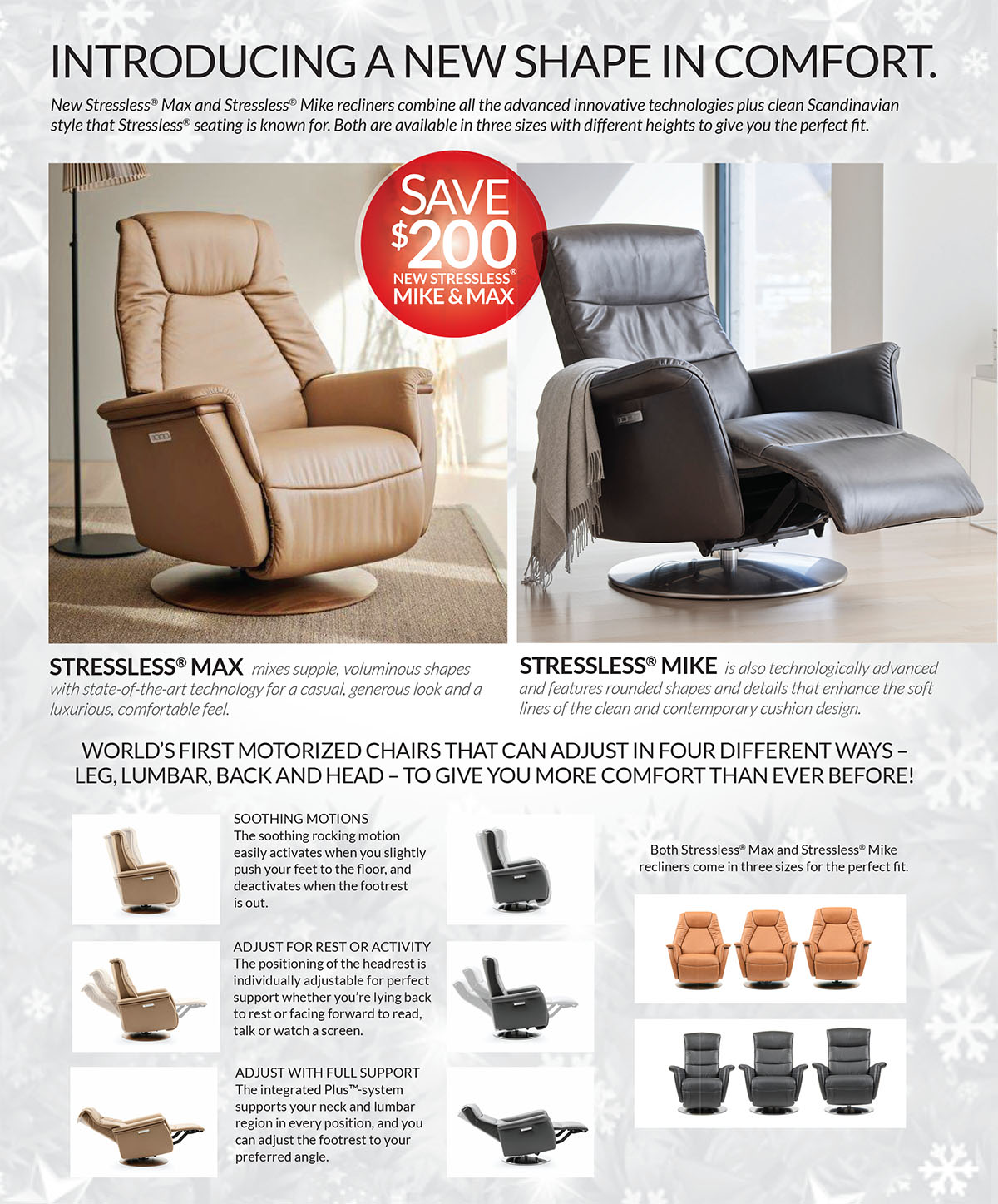 SAVE $300
ON OTHER STRESSLESS® RECLINERS (INCLUDING POWER™ RECLINERS), OTTOMANS, & OFFICE CHAIRS
STRESSLESS® RECLINERS
The Stressless® Power™ system is an innovative, motorized technology that offers mechanical precision in finding your ideal body position. Achieve maximum comfort with the simple touch of a button.
STRESSLESS® OTTOMANS
The Double Ottoman provides enough legroom for two with ample inner storage space. The optional wooden table top rests firmly across the width of the Double Ottoman as a surface to place refreshments for guests. The Modern and Soft ottomans are designed with a built-in tilt system that adapts the angle of the ottoman to your sitting position.
STRESSLESS® OFFICE CHAIRS
Complete your home office with a Stressless® office chair, available in 18 styles. Each model includes a full 360° swivel feature, Plus® System adjustable headrest, Stressless® patented Glide® System, and plush cushioning. Choose between small, medium, and large sizes and low or high seat backs. The View and Skyline models feature the innovative BalanceAdapt™ system that allows the seat and back to automatically adjust the position according to your body movements. Enjoy the LegComfort™ system of the Peace model, which hides a footrest under the seat until you want to kick your feet up and relax.