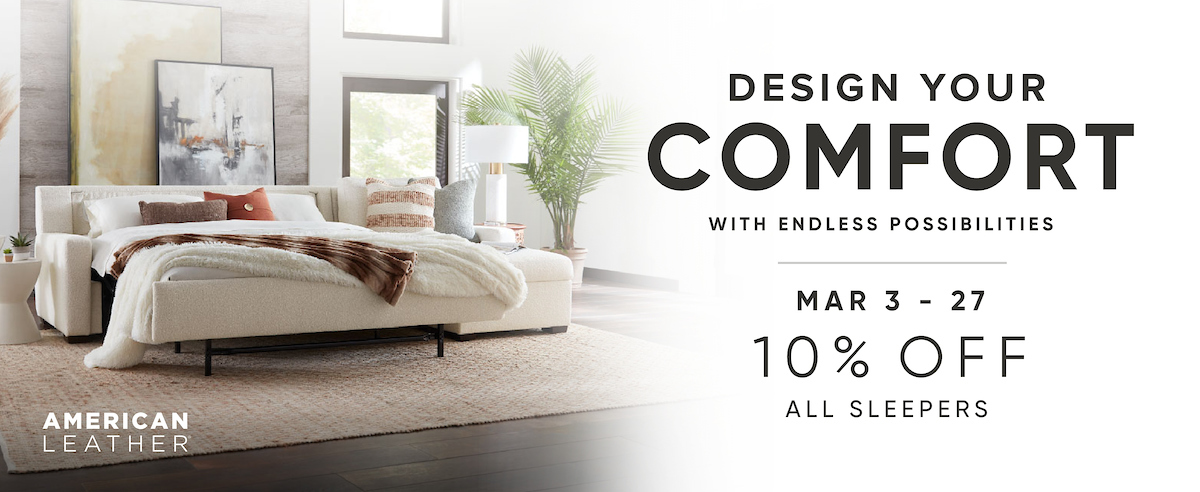 Save 10% Off AMERICAN LEATHER® COMFORT SLEEPER® Sofas
March 3 - 27, 2023
Enjoy 10% off for all Comfort Sleeper styles, including matching stationary pieces, Comfort Sleeper Silver, and Today Sleeper.
Renowned for its unparalleled comfort and versatility, the Comfort Sleeper® is a perfect addition to any living space. No bars. No springs. Pure comfort. Contact a sales consultant for more information.
REVOLUTIONARY SLEEPER SOFA DESIGN
Meet the Comfort Sleeper®: the ultimate hybrid sofa for a smooth transition from day to night. With the advanced
Tiffany 24/7 Sleep System, 15 styles, and 3 mattress options, the Comfort Sleeper® delivers innovative thermal
control and an immersive sleep experience that responds to your touch. This is sleep, transcended.
EXQUISITE LEATHER & FABRIC OPTIONS
Choose from leather and fabric coverings in a wide array of colors and textures. Every Comfort Sleeper® is available in premium quality, top-grain leather in light protection, medium protection, or heavy protection to suit any lifestyle. Luxurious fabrics include the finest Turkish yarns, Toray Ultrasuede, and classic cotton velvets.